Media Partners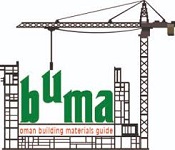 Ibn ahmed united enterprises – proudly launching the "BUMA" Oman Building Materials Guide is a booklet for the manufacturers, wholesalers, suppliers & retailers. Source of informative information for the new materials of building construction. Distribution will reach to the target industries like construction companies, engineering consultant, building retailers, walk in customers & etc.
---
Events Get have been doing silent revolutions befitting your cause. As a matter of fact, you get to see a whole new perspective of your event/s, news, and articles when you upload them in advance on our site. List your all events, news, and guest posts with us on the seminar, workshop, conference, education, company, announcement, circular, business, technology, gadgets, telecom, and more of your college, university, institute, or company on a worldwide basis.
---
Geospatial World is the media arm of Geospatial Media & Communications. Providing offerings through multiple media channels – online, video, print and social media – bring out the latest on technology trends and analysis, views of experts and advocacy on policy issues. An advisory board of top thought leaders, expert authors and guest contributors from across the spectrum give us an exceptional grip on the industry.
---